Friday, 13 December, 2013, 09:03 AM -
Not TFTD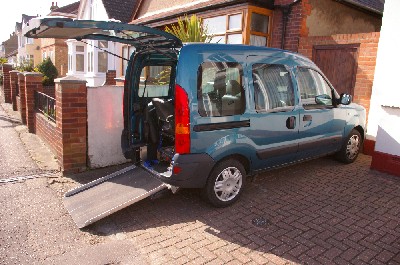 You may remember,
back in April
, I told you that Terry's motability vehicle was taken away while he was reassessed. This had a pneumatic ramp at the back so that we could get his wheelchair or electric buggy around. We've been fighting to get it back ever since. We finally got to the appeal tribunal on Tuesday this week. To the utter astonishment of both of us, the appeal has been REFUSED!
Right now we both feel numbed by this decision. The only reason given is that Terry "does not satisfy the statutory criteria." Even that, rather terse, statement confuses us. There are really only two aspects to the statutory criteria.
1. There must be a physical cause for the disability. We presented ultrasound and MRI scans that prove that Terry has multiple areas of nerve damage in his right foot.
2. The disability must make a person "virtually unable to walk."
What constitutes "virtually unable to walk" is the subject of extensive Department of Work and Pensions' guidance and case law. From what I've read, if a person can only walk a short distance, less than a few tens of metres, without "severe discomfort", then they meet the criteria of being "virtually unable to walk."
So we presented evidence from a pain management specialist who stated that walking exacerbates Terry's foot pain. We provided a statement from Terry's university tutor that he only ever walked a short distance from his electric buggy to a chair in the lecture room. We provided prescriptions for the powerful pain killers that Terry has to take. We provided photographs and receipts for the many stability and maneuverability aids that Terry uses around and outside the house. And of course, Terry gave evidence to the tribunal and answered all their questions about how he performed everyday tasks - I thought pretty satisfactorily. I've got to admit, I thought we had a pretty watertight case.
However, there has been one dissenting medical opinion all along. The DWP contracts out their testing to a firm called ATOS. The ATOS doctor wrote in his report that in his "opinion the walking distance is likely to be between 100 and 200m."
Note the words "opinion" and "likely". This opinion was not based on any objective test or observation. I was present at the assessment and Terry never walked more than a couple of metres from his wheelchair to an examination bench and back. Yet this one statement seemed to override all the other evidence we presented to the DWP. They wrote that "it has been established that he can walk 200m." No "opinion" or "likely" in their mind.
We've written to the tribunal asking for more details about their decision. Unless they have made an error in law it is most unlikely that we can take this any further. Frankly, I'm stunned and extremely disheartened by this.
| 1 | 2 | 3 | 4 | 5 | 6 | 7 | 8 | 9 | 10 |
Next>
Last>>