Friday, 1 July, 2011, 07:02 AM -
Sacks
Rating
2 out of 5 (A little platitudinous)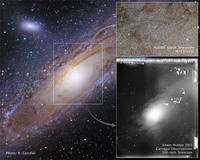 Here's something to cheer you up. A
lottery winner in Plymouth
has won a million pounds and doesn't know it. Whatever's happened, their prize has gone unclaimed. Of course, if you didn't buy a lottery ticket near Plymouth then it definitely isn't you, but it's a cheery story for someone, unless they've died or lost the ticket or something.
Then there's another famous story, of a man who took pity on a rubbish artist and accepted pictures from him in return for hospitality. After they both died, the relatives discovered a fortune in T.S. Lowry pictures in the attic, but then you knew I was going to say that as soon as I said he was a rubbish painter.
So you see, there are all these cheery stories in the world to cheer us up. Yes, you may have lost your job and your pension, but at least you'll live a very long time, even if it is in poverty. Always remember, no matter how bad things are, there's always someone worse off than you. What could be more cheery than that?
As it says in the Big Book of Magic Stuff's song book, thank god I was born an Englishman!
Listen/Read
<<First
<Back
| 161 | 162 | 163 | 164 | 165 | 166 | 167 | 168 | 169 | 170 |
Next>
Last>>