Rating
2 out of 5 (A little platitudinous)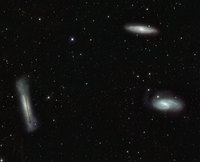 What I did on my holiday.
We went to Norway and saw all the crinkly bits around the fjords. We saw lots of snow and ice and some great big mountains. The people were really nice too, despite the fact that we didn't look traditionally Norwegian. They weren't at all like
Anders Behring Breivik
.
Meeting different people helps you to realise that different people aren't really different. You realise that there's a bit of the Invisible Magic Friend in everybody, although which bit is not entirely clear. It turns out that the people of Norway are
not
all terrifying, hate filled xenophobes after all. This is the kind of thing you discover when you travel to distant lands. I very much recommend people going to Norway to see for themselves.
When we wanted to extend the Sikh Gurwara in Southfields, we were subjected to all sorts of campaigns of hatred. Then we decided to do some public relations, knocking on doors, inviting people to our temple and giving them some of the lovely food that we normally share there. It turned out that most people were really nice after all.
So you see, if we all just talk and respect one another we can all learn to just get along.
Listen/Read
<<First
<Back
| 157 | 158 | 159 | 160 | 161 | 162 | 163 | 164 | 165 | 166 |
Next>
Last>>