Tuesday, 7 June, 2011, 07:34 AM -
Butler
Rating
2 out of 5 (A little platitudinous)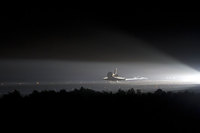 You know it'sh not all bad news. (Hic!) It'sh not all doom and gloom and (Hic!) despair and hopeleshnesh. There's good things. No, really, there ish. Take the foreign aid (Hic!) aid budget, that'sh go'in up. That'sh
someth'in to cheer 'bout
, ishn't it? (Hic!)
Chrishtianty's alwaysh been big on collect'in money and pass'in shum of it to the poor. Sh'aint Paul shtarted it off. (Hic!) He was a right champion fund raiser he wash, help'in the church back in Jelushalem (Hic!) who otherwise might reshent him callin 'imself and aposhle.
That'sh not the only good news. Two drug comp'nies hiv decided to (Hic!) to sell their
new vacsheens
at a price devlepopping countries can actually afford. OK, it'sh not exactly (Hic!) charity, but it'sh someth'in to be happy about it, ishn't it? Well ishn't it? Yesh it ish.
And there'sh even more good news.
Help for Heroes
has raised nearly £100m for injured sholdiersh. That'sh pretty good news, (Hic!) ishn't it?
Sho really, ever thin's not ash depreshin and shynical and unremitt'ly awful ash we normally fink. I fink I need a drink. (Hic!)
Listen/Read
<<First
<Back
| 164 | 165 | 166 | 167 | 168 | 169 | 170 | 171 | 172 | 173 |
Next>
Last>>