Friday, 10 June, 2011, 07:09 AM -
Harries
Rating
3 out of 5 (Fairly platitudinous)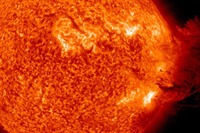 Hitler's letter
goes on display
this week. Apparently he wanted to get rid of the Jews. Back with modern day extremism, the government has
published its strategy
for dealing with it.
Britain is very multicultural. All over Britain there are lots of people being culturally different. Sometimes you get people being cultural right beside one another. What is it that keeps all these different cultures together and stops any of them being extremist? British values include a belief in democracy, the rule of law and mutual respect. This includes respect for different faiths. We don't go around mocking faiths do we - at least not all faiths. That would be very rude, and in some cases, suicidal.
The Roman Empire was also very multicultural. There was Romans, Greeks, Jews, Egyptians, Gauls, Britons, Parthians, Medes, Mesopotamians, Cappadocians, Syrians, Carthaginians, all being very cultural and ethnic. They all had their own languages. Fortunately, early Christians didn't have to learn all those languages. They just spoke the good news and everyone heard it in their own language. We know this because it tells us all about it in the New Tasty mint. It happened on Pentecost. Has anyone mentioned Pentecost yet? It's this Sunday you know.
So all we need to do to maintain social cohesion in a multicultural society is to speak in tongues.
Listen/Read
<<First
<Back
| 163 | 164 | 165 | 166 | 167 | 168 | 169 | 170 | 171 | 172 |
Next>
Last>>