Rating
2 out of 5 (A little platitudinous)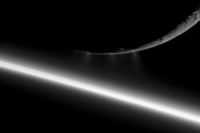 "This call may be recorded for training purposes." Somewhere out there, there could be hundreds of recordings of me screaming down the phone at the call centre operator. Even now, trainees might be sniggering at the mad vicar from Cambridge.
Many of us are beginning to suspect that the banks
aren't really on our side
. OK, the banks need to make a profit, they're businesses after all, but there used to be a certain level of trust in our banks. Looking after people's money was a serious business. The bank manager was a respectable member of the local community, almost as respectable as the vicar.
Trust in the banks can't be restored by changing the rules. Bankers are cunning and are experts at getting round the rules. What we need is more morality in banking. The Big Book of Magic Stuff has the perfect prescription for morality in banking. By banning banking completely, the Big Book of Magic Stuff ensures that no bankers will ever by tempted to wander into the vault and award themselves a few million pounds in bonuses.
Listen/Read
<<First
<Back
| 166 | 167 | 168 | 169 | 170 | 171 | 172 | 173 | 174 | 175 |
Next>
Last>>