Rating
4 out of 5 (Highly platitudinous)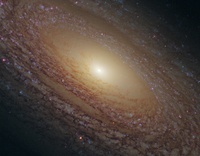 Is your GPS playing up lately? That's because of the recent
coronal mass ejection
from the sun. It's something to do with sunspots and the sun reaching it's "maximum", which sounds kinda cool. Anyway, the sun's been throwing billions of tons of whatever it is it's made of, out into the solar system. And it's done it before. In 1989 it blew out the power systems in
Quebec
. It's all very fascinating and awe inspiring and complicated and stuff, but I'm only a simple country Rev Dr Dr and I don't really understand it, so I'm going to talk about something else instead.
Amongst the other things I don't understand is the Invisible Magic Friend, which is why I've been invited on here as an expert to talk about him. I don't comprehend what he is in the crucible of his own being. He makes the sun shine and is even bigger and brighter and lovelier than the sun, and as majestic and powerful and awesome. If you ever came close to the Invisible Magic Friend that I don't know anything about, you'd be blasted away by the raw energy of him. He's so loving and really, really big and full of justice and you wouldn't want to be around when he does an ejection.
We've got hymns to him that explain how immortal and invisible and incomprehensible he is and an entire Big Book of Magic Stuff to explain how we don't understand him.
Isn't the Invisible Magic Friend that we don't understand just fantastic! Now
that's
reality.
Listen
Read
<<First
<Back
| 175 | 176 | 177 | 178 | 179 | 180 | 181 | 182 | 183 | 184 |
Next>
Last>>