Rating
3 out of 5 (Fairly platitudinous)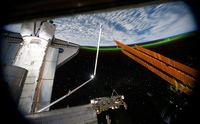 "Incredibly smart Invisible Magic Friend, who's voyeurism knows no bounds."
That's a prayer. It tells you that the Invisible Magic Friend knows absolutely everything you've ever done or thought about doing. It's all on a need to know basis of course, but he needs to know everything so he can judge you on the day of judgement.
Has anyone mentioned the phone hacking scandal yet? Or Rupert Murdoch? Or news International? Good job I'm here then. You see it's all very theological, but I'll try and make it simple for you.
Newspapers, like the Invisible Magic Friend, pass judgement on others. You could say the Invisible Magic Friend is the ultimate hack journalist. He sits up there, with his infinitely big notebook, his cigarette with the eternal one inch of ash hanging off it, his white beard and his trilby hat, scribbling down all those covetous thoughts of yours.
Is this theology getting a bit too deep and complicated for you? Let me put it another way. Newspapers can be very, very powerful. They can pass judgement on you. Believe you me you really don't want to get on the wrong side of the newspapers. They can expose your hypocrisy or stupidity and then everyone will have a good laugh at you. The invisible magic friend is also very, very powerful. Believe you me, you don't want to get on the wrong side of the Invisible Magic Friend. There's one big difference though. If you're judged as having to burn in hell for all eternity (that's the penalty for a first offence), you won't get all us good Christians having a laugh at you. When have you ever heard of a Christian saying they'll get the last laugh?
So in summary, and after much theological thinking, the scandal in the news media explains why you can trust the Invisible Magic Friend. Which just goes to show, once gain, how incredibly useful theology is in everyday life.
Listen/Read

14 comments
( 1003 views ) |
permalink
|





( 3.1 / 435 )
<<First
<Back
| 159 | 160 | 161 | 162 | 163 | 164 | 165 | 166 | 167 | 168 |
Next>
Last>>