Rating
3 out of 5 (Fairly platitudinous)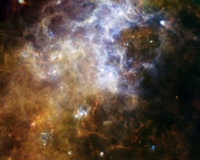 With all the public sector cuts, in the health service, the police and the armed forces, we naturally think of the Big Book of Magic Stuff: for everything
there is a season
. The government really ought to wait for the proper season to make people redundant.
It's all the fault of the banks. The government wants to split the steady, level headed, retail aspects of banking away from the risky, reckless, casino aspects of investment banking. Some bankers have threatened to take their
casinos elsewhere
and let some other government insure them against collapse.
The Big Book of Magic Stuff is quite clear on this: thou shalt not use capital from retail savings to invest in futures, derivatives or exotic financial instruments devised by rocket scientists and that no one really understands. If only the banks had followed this simple advice from the Invisible Magic Friend, we wouldn't be in this mess now. Yes, the Big Book of Magic Stuff remains as relevant as ever.
Listen/Read

7 comments
( 1079 views ) |
permalink
|





( 3 / 330 )
<<First
<Back
| 155 | 156 | 157 | 158 | 159 | 160 | 161 | 162 | 163 | 164 |
Next>
Last>>