Rating
1 out of 5 (Not platitudinous)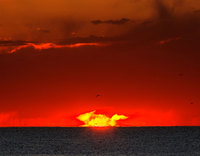 There's a bit of a <some-Scottish-word-that-even-though-I'm-from-Glasgow-I-have-never-heard-of-but-which-I-infer-from-the-context-may-mean-a-
bit-of-an-uproar
> in Scotland at the moment. The Bishop of Paisley has come out strongly
against gay marriage
. This will shock many of you, I know, as the Catholic Church is renowned for its
support for gay rights
.
The Bishop has threatened to get all 800,000 Catholics in Scotland to vote against the SNP, although as the Scottish
Lib Dems
and the national
Conservative Party
have both come out in favour of gay marriage, it would seem that the number of Catholic approved political parties is diminishing rather rapidly.
The few biblical texts prohibiting same sex relationships have been argued over ad nauseam. Psychiatrists long ago stopped classifying homosexuality as a disease. There is increasing scientific evidence to suggest that sexual preference is genetic. It is no more than nature doing what it always does, producing variation.
Civil partnership takes care of the legal side of things. Marriage is a public declaration of fidelity and love.
Listen/Read

13 comments
( 1335 views ) |
permalink
|





( 2.9 / 219 )
<<First
<Back
| 151 | 152 | 153 | 154 | 155 | 156 | 157 | 158 | 159 | 160 |
Next>
Last>>