Rating
3 out of 5 (Fairly platitudinous)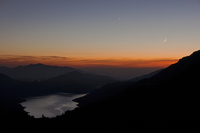 The chancellor's autumn statement says things are
going to get worse
before they get better.
This is
exactly
what it says in one of the Hindu Big Books of Magic Stuff. Just hang on in there for another five or six years, a decade or two tops, and it'll soon be party time again. The future will be brighter for our children, and our children's children. Hope springs eternal. Where there's a will there's a way. Nothing venture, nothing gained. In for a penny in for pound.
I will now introduce you to four exotic sounding Hindu words, whose mystical eastern sounds lend gravitas and authority to their meaning. These words are
as follows
.
Darn socks
- the ethical values that help us to repair damaged hosiery.
Arthur
- the King of Camelot who provides the stability necessary for our economic prosperity.
Calmer
- the state we need to be in to enjoy material things.
Mocha
- the delicious coffee and chocolate mixture that makes us so spiritually fulfilled
All four are needed. If Arthur does not darn socks then we won't be calmer to enjoy our mocha. While Arthur may be a bit idle at the moment and outside our control, this is no reason not to darn socks or enjoy a calm, soothing mocha. We look forward to the day when Arthur returns to unite all of Britain in darning socks and have a calmer Mocha. That day will happen and it will take all four to make us truly fulfilled and better off.
Listen/Read

7 comments
( 1124 views ) |
permalink
|





( 3 / 254 )
<<First
<Back
| 146 | 147 | 148 | 149 | 150 | 151 | 152 | 153 | 154 | 155 |
Next>
Last>>