Rating
2 out of 5 (A little platitudinous)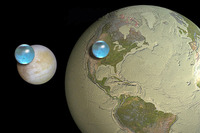 I'm sure many of you will have been shocked to read the latest report from the
Church Urban Fund
. This found that many people in Britain today are poor, or old, or lonely. Some are poor and old, others are poor and lonely. Yet, others are old and lonely. Some are poor and old and lonely, and sick too, some even die.
Being old and poor and lonely is not very nice. Humans like to eat together. This is so unlike our past, when we each went off to our separate caves to eat in private, or with all other modern primates who always go off to distant parts of the forest to eat away from the group.
This is why the Christian ritual of holy communion is such fun. When it comes to a jolly good knees up, nothing can beat holy communion. But many sick, old, poor, lonely people can't get to holy communion any more - their party days are behind them.
It would probably take government policy changes to eliminate poverty, sickness, old age, loneliness and death. However, we can do our bit by offering a shared meal to our lonely, elderly neighbours.
Listen/Read

5 comments
( 594 views ) |
permalink
|





( 2.9 / 235 )
<<First
<Back
| 128 | 129 | 130 | 131 | 132 | 133 | 134 | 135 | 136 | 137 |
Next>
Last>>