Mona Siddiqui, Professor of Islamic and Inter-Religious Studies, Assistant Principal for Religion and Society, New College on the Mound, University of Edinburgh
Rating
2 out of 5 (A little platitudinous)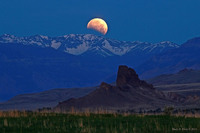 While Britain celebrated the jubilee, Egyptians are celebrating the
imprisonment of Mubarak
. The sentence brings to an end 30 years of his rule and 40 years of dictatorship.
The presidential elections that take place in a few weeks time however, do not mark the end of Egypt's revolution. The future president must uphold the supremacy of civil law and guarantee justice and equal rights for all.
Those who wish to use Islam to suppress human rights will no doubt find a theological justification. That's the great thing about religion, you can find theological justifications for just about everything, including doing what is right. For example, there's a good bit in the Koran where the Invisible Magic Friend praises the actions of just leaders.
Egypt's president must resist the temptation to abuse the privileges of power. Those who lost loved ones will continue to demand a just society and it is up to Egypt's leaders to deliver it.
Listen/Read

5 comments
( 1099 views ) |
permalink
|





( 2.9 / 225 )
<<First
<Back
| 126 | 127 | 128 | 129 | 130 | 131 | 132 | 133 | 134 | 135 |
Next>
Last>>