Vishvapani (formerly Simon Blomfield), member of the Triratna Order (formerly the Western Buddhist Order) - I'm ordained you know!
Rating
1 out of 5 (Not platitudinous)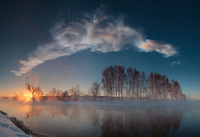 Opinions differ over
Bradley Manning
. Some see him as a courageous hero who put principles before his own future and welfare to reveal
brutality and injustice
. Others see him as a traitor who indiscriminately jeopardised US lives and US interests.
I'm in the former group.
However it's important not to get too sentimental when considering when it is important to speak out and when to keep quiet. Buddhism proposes four guidelines.
First, avoid telling lies.
Second, speak kindly.
Third, be constructive, think about the consequences of what you say.
Fourth, promote mutual understanding to bring people together.
These guidelines must be balanced and no one of them can always be said to take precedence. Bradley Manning concluded that it was the right thing to do to speak out. I wonder if I would have been so courageous.
Listen/Read

8 comments
( 1108 views ) |
permalink
|





( 2.8 / 189 )
<<First
<Back
| 99 | 100 | 101 | 102 | 103 | 104 | 105 | 106 | 107 | 108 |
Next>
Last>>