Rating
5 out of 5 (Extraordinarily platitudinous)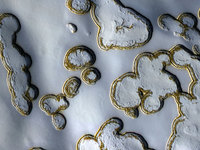 The OPERA experiment at CERN seems to have detected neutrinos travelling slightly faster than the speed of light. If true then this will overturn one of the foundations of physics, Einstein's Theory of Relativity. One physicist has even promised to eat his
boxer shorts
live on TV if it turns out to be true.
But this is how science works. We perform experiments, gather data, consolidate the data using theory, make predictions and do the whole cycle over and over again. Theory is developed using skill, judgement and intuition. Which is
exactly
like faith, isn't it?
Michael Polanyi
as good as said so. He was a Christian you know?
So what about the Invisible Magic Friend? Well, science is no good at telling you about the Invisible Magic Friend because he's invisible and magic. Theologians explore invisible magic things in
exactly
the same way as scientists do with visible not-magic things, apart from not doing experiments, not collecting data, not having to restrict our theories to being consistent with the data (because there isn't any), but in every other respect it's
exactly
the same.
Listen/Read
<<First
<Back
| 142 | 143 | 144 | 145 | 146 | 147 | 148 | 149 | 150 | 151 |
Next>
Last>>