Rating
3 out of 5 (Fairly platitudinous)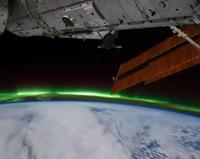 So
Dame Vivienne Westwood
has been addressing the anti-capitalist protesters outside Saint Paul's on the
emptiness of consumerism
. And so I stood around watching the
Durham Lumiere Festival
. There were lots of bright, happy colours, lighting up the town and especially the cathedral.
And so it begins, the Cathedral was adorned by pictures of the Lindisfarne Gospels. These unique Gospels were produced at enormous expense. Going forward, they were definitely the designer Gospels of their day and highly desirable artefacts in their own right - no hint of abject consumerism or the ostentatious display of wealth there.
Do you know who all this reminds me of? Go on, have a guess. No, I knew you wouldn't get it. OK, I'll put you out of your misery, it was Jesus! Yes, that's right, Jesus, the visible bit of the Invisible Magic Friend! Jesus is like light, a great big multi-coloured neon display of tubular light, who now reigns supreme in the great fluorescent bulb showroom in the sky.
So science and religion don't have all the answers. (I put them together because they don't have all the answers in roughly equal amounts.) And so there's no art any more,
For Art stopped short in the cultivated court of the Empress Josephine
, except in Durham, where we have 1,300 year old Gospels projected onto the Cathedral walls -
that's
art.
Listen
<<First
<Back
| 142 | 143 | 144 | 145 | 146 | 147 | 148 | 149 | 150 | 151 |
Next>
Last>>