Thursday, 19 January, 2012, 08:22 AM -
James
Rating
3 out of 5 (Fairly platitudinous)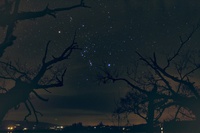 The Artist
has turned out to be a surprise success story. It's a movie that reminds us that words are not the only way to communicate. A great deal can be conveyed by facial expression. Take the exchange of glances between
Sarkozy and Merkel
when asked about Berlusconi.
Then there was a widow, only a few years into her bereavement, who said "I can't picture his face any more." It added to her grief.
Which brings me effortlessly onto everyone's favourite founder of Christianity, Saint Paul. He said that when he dies and goes to heaven, as he most surely would, he'd get to see a great big smile on the face of the Invisible Magic Friend. What's totally unique about Christianity is that the Invisible Magic Friend (whom we refer to as "The Word" because it sounds more mysterious and profound and theological and stuff, and definitely a whole load better than "Invisible Magic Friend" does) briefly became visible and is believed to have made some facial expressions. Although no one thought to sketch them at the time so they mainly just wrote down his words.
You get people who just like to look at statues of "The Word" on the cross. There isn't much in the way of verbal communication in these exchanges and the statue generally has a fairly fixed expression, but I think one expression is better than none at all, don't you?
Listen/Read
<<First
<Back
| 140 | 141 | 142 | 143 | 144 | 145 | 146 | 147 | 148 | 149 |
Next>
Last>>