Rating
3 out of 5 (Fairly platitudinous)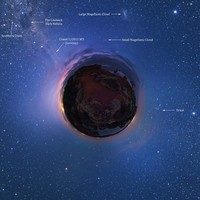 Everyone agrees that selling goods and services that people want, and making a modest profit in doing so, is needed in a healthy, productive economy. However, some people now get paid far too much. Many chief executives now get paid nearly as much as film stars and footballers. Meanwhile, really useful people like teachers, doctors and vicars hardly get paid anything by comparison. Handing out these huge sums of money to the alpha-male in the boardroom has gone too far.
How are we going to fix this? Naturally, we turn to theology for the answer. Now, I know that many of you think that religion is at least partly responsible, always identifying the Invisible Magic Friend as an all powerful man that we must worship and obey. My response to that is that we should ignore it. Let's concentrate instead on what religion ought to be rather than what it is.
Blah, blah, blah, mystic, blah, blah, divine, blah, blah, blah, loving, blah, blah, blah, blah, trust, ...
My word is my bond.
Listen/Read
<<First
<Back
| 142 | 143 | 144 | 145 | 146 | 147 | 148 | 149 | 150 | 151 |
Next>
Last>>