Tuesday, 8 February, 2011, 08:23 AM -
James
Rating
0 out of 5 (Not platitudinous)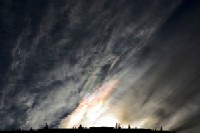 The book
What's Mine is Yours
describes the internet phenomenon of hiring out goods that are otherwise being unused: renting a room, hiring a bicycle or a car from someone else.
We all have such unused goods. The average power drill gets used for just 12 minutes in its lifetime, so it makes sense to share what we've got. ebay alone trade £1,800 every second. We buy goods we've never seen from people we've never met and send them the money first. The internet has built trust in a world where it's been diminishing in almost every other way.
Having exclusive access to our own goods used to be seen as a sign of our independence. As the population rises, with much of the world's wealth concentrated in the hands of a few, collaborative consumption makes sense. Of course, religious communities invented collaborative consumption long before the internet arrived. It makes everyone equal before the Invisible Magic Friend. The first Christians all did this, until Christianity went mainstream, when most Christians decided they weren't going to share any more.
The vast majority of ebay users have discovered that you really can put your faith in other human beings.
Listen
Read
<<First
<Back
| 176 | 177 | 178 | 179 | 180 | 181 | 182 | 183 | 184 | 185 |
Next>
Last>>