Sunday, 13 February, 2011, 07:50 AM -
Not TFTD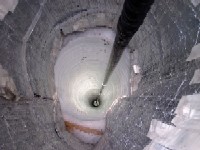 I just want to express my unbounded admiration for Malaysia's Department of Islamic Development. Finally we have a government ready to warn people of that most dangerous of all traditions: the celebration of Saint Valentine's Day. However, Wan Mohamad Sheikh Abdul Aziz, head of the Malaysian Islamic Development Department (JAKIM) was quick to distance himself from any suggestion that this applied to any of Malaysia's non-Muslim minorities.
"We appreciate that this is a deeply felt religious tradition among Christians. In the West in particular, you celebrate free love and indulge in inappropriate vices at the drop of a hat on Saint Valentine's day. We respect these cultural differences and understand perfectly that you don't have the morals that we Muslims have, that is why this advice extends only to Muslims and not to other less enlightened religions."
In 2005 Malaysia's
National Fatwa Council
[Ed - select English at the top left of the page]
, after much debate and scholarship, wisely concluded that there is no evidence of a Saint Valentine's day tradition in Islam and that this "Spirit festival has elements of Christianity and the practice is mixed with the contradictory and immoral acts forbidden by Islam."
More general guidance on taking part in Christian festivals is always available from the
Department of Islamic Development
. They council against various un-Islamic religious rituals such as:
- dressing up as Santa Claus,
- wearing conspicuous clothing,
- anything that involves superstition.
JAKIM officials will carry out a nationwide 'Mind the Valentine's Day Trap' campaign, aimed at preventing Muslims from celebrating the day. Anyone caught sending a Valentine's Day card to their loved one will be severely reprimanded and you don't want to even think about the penalty for being caught in possession of a red rose or a box of Thornton's Classic Chocolate Collection.
Nasrudin Hasan Tantawi, head of the Islamic party PAS's youth wing said Wednesday that authorities will carry out "immorality checks" on February 14. "We are deploying local religious department officials as well as party members to stop such sinful acts."
In recent years, authorities have searched hotel rooms on the night of February 14. Unmarried Muslims who meet in private can be charged with "khalwat," or "close proximity", which carries fines and prison sentences of several months. For as we all know, wherever two people are in close proximity to one another there is the possibility of sin being committed.
Read
<<First
<Back
| 176 | 177 | 178 | 179 | 180 | 181 | 182 | 183 | 184 | 185 |
Next>
Last>>