Rating
4 out of 5 (Highly platitudinous)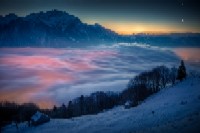 President
Mubarak
of Egypt must be feeling increasingly isolated. Other countries such as
Jordan
and
Syria
look on uneasily.
As Bill said to Ben in
The Flowerpot Men
, "flobba-lobba-dobba-lob", or what goes around comes around. This can be seen in the
Trumpton Town Hall Clock
, telling the time, steadily, sensibly; never too quickly, never too slowly; telling the time for Trumpton.
The heroes of Watch with Mother often valued the wisdom of age. We revere the likes of
Captain Snort
of Pippin Fort near Chigley.
Captain Snort is a soldier man,
Scarlet and gold a soldier man.
He'll work a boy as hard as he can,
To turn him into a soldier man.
But paradoxically, it encourages the elderly not to linger. As Sergeant Major Grout said to Captain Snort, "Atten-TION, isn't it about time you retired and let me take over old chap?"
Watch with Mother is full of instances of one series giving way to another. Muffin the Mule gives way to Andy Pandy, which in turn stands aside for
Chigley
, near Camberwick Green, In Trumptonshire. There is therefore an "orderly transition" as is being hoped for in many Middle East countries.
Sometimes we just know when it's time to go. There comes a point where we know that we have outstayed our welcome, that it's time to move on, that we're no longer relevant or meaningful, that we've said all that we have to say and there's no more to be said, when we find ourselves repeating the same tired, old, outdated platitudes day after day after day.
Perhaps the words of Lady Rosemary to Sir Basil, in
The Herbs
might be relevant here. "My name is Lady Rosemary,you'll find you cannot fool me. I have eyes both sharp and quick,to help me see through every trick."
Let us hope that President Mubarak has been listening to this broadcast.
Listen
Read
<<First
<Back
| 176 | 177 | 178 | 179 | 180 | 181 | 182 | 183 | 184 | 185 |
Next>
Last>>