Rating
3 out of 5 (Fairly platitudinous)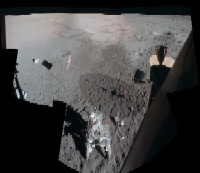 Brian here, in Southampton, an associate lecturer at the
London Institute for Contemporary Christianity
where we envision and equip Christians, and the leaders, churches and organisations that serve them, with the biblical framework, practical resources and models to engage biblically, relevantly and vigorously with the issues they face in today's world. Hi.
Ed Milliband says we now face the prospect, that for the first time in a hundred years, the next generation will be
worse off than their parents
.
At this point I'm supposed to wax lyrical about the benefits of a more spiritual lifestyle, how a nice walk in the woods is so much better than more material possessions, how it is better to store up treasure in heaven and all that. It would be such a cliché to do so that obviously I want to avoid doing that at all costs.
But what if we
could
teach our children to live better lives with fewer resources, which they'll have to now that we've consumed them all. In a way, we'd be leaving them a great legacy.
"My son, I leave you a world with less oil, less fresh water and food per person and a dearth of other non renewable resources. Everything for you will be more expensive and there are many things you will never have at all. What a great opportunity this is for you to learn to be frugal, to consume more responsibly and lead a simpler, yet spiritually more fulfilling life."
What is the point of accumulating wealth in this life, when we should be storing up treasure in heaven? As
Ecclesiastes
(one of the nice books of the Big Book of Magic Stuff that we do so like to quote here on Thought For The Day) says, in the end you're all going to rot.
You can't take your vast accumulation of possessions or your hard earned fortune with you. Be contented with what you have accumulated in the next life, which will be so much better than this one.
Rejoice, oh next generation, for you will be able to live better for less.
(Thank the Invisible Magic Friend I managed to avoid all those tiresome clichés.)
Listen
Read
<<First
<Back
| 176 | 177 | 178 | 179 | 180 | 181 | 182 | 183 | 184 | 185 |
Next>
Last>>