Rating
5 out of 5 (Extraordinarily platitudinous)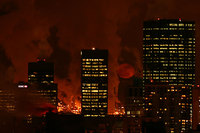 What makes people happy? Happiness is of course a complex issue whose complexities I'm not going to discuss, but the
Understanding Society
survey suggests that married couples, married for less than five years and with no children, are the happiest people of all, although
Oscar winners
are also happy.
But what else makes people happy? I wonder what it could be? Let me think now, what could be a sure fire way of ignoring all the world's problems? Hmmmm, oh yes, I remember, did you know that
having a religion
makes people happy? It doesn't even have to be the true religion, like Christianity, any religion will do, no matter how nutty it is? If there's anything guaranteed to help you forget all about this world's troubles, it's to imagine that everything will all be sorted out later in magicland. It's so much more useful than mindless delusion. A
famous theologian
agrees with me, so I must be right.
I suppose it's because we people of faith have hope. Those of you who don't have an Invisible Magic Friend obviously don't have any hope. You have to rely on people sorting out their own problems and we all know what a
waste of time
that is! People of faith also benefit from a strong sense of community and a
healthier lifestyle
.
Just telling people to "don't worry, be happy", can be quite irritating. As one of my favourite hip hop bands says
Damn if I say it
you can slap me right here (Get it) lets get this party started right, Right on, c'mon.
But it's not just that people of faith have hope, community and health, it's also that we flourish throughout life, are open to change and are so much less selfish than everyone else. We get this through knowing the
beauty, goodness and wisdom
of the Invisible Magic Friend.
So despite being married 19 years, having two children and no likelihood of an Oscar, I'm off to do a bit of flourishing today. How sad it must be for those of you who are not in my happy state? Excuse me while I stick my fingers in my ears and go "La, la, la, la, la..."
Listen
Read
<<First
<Back
| 173 | 174 | 175 | 176 | 177 | 178 | 179 | 180 | 181 | 182 |
Next>
Last>>