Rating
4 out of 5 (Highly platitudinous)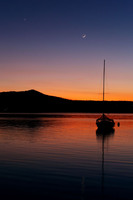 This programme is all about leaders, which is why they have important religious leaders like me on. There are two types of leaders. There are political leaders, people who seek power, like kings, who fight their petty little wars and are soon forgotten. Then there are important religious leaders, whose words inspire and bring hope to the masses of ordinary people.
Important religious leaders, whose wisdom and humility echo down through the ages, never seek political power. They are not the kind of people who try to control others or bend them to their will.
The Big Book of Magic Stuff has many examples. Who, for example, remembers any of its kings. Names such as David, Solomon and Herod are largely unknown. Whereas, among the prophets, who can forget the unforgettable Obadiah. The words of the famous Haggai are so famous that I need not even quote them. A famous poet agrees with me, so I must be right.
In our own time, there are such inspirational religious leaders as Bill Gates and Warren Buffet. With their vast reserves of cash, I would just like to say how admirable and wonderful they are. I didn't get where I am today without telling the rich and influential how admirable and wonderful they are.
Then there are the ordinary people, teachers and nurses, the kind of people we don't allow on Thought for the Day. Although not as important as great religious thinkers such as myself, I'm sure they go about their humdrum little lives in a reasonably competent fashion, possibly doing something vaguely useful from time to time.
In the tough times that we face ahead, the inspiration of we great religious thinkers will be even more important and relevant than ever before.
Listen/Read
<<First
<Back
| 139 | 140 | 141 | 142 | 143 | 144 | 145 | 146 | 147 | 148 |
Next>
Last>>