Rating
5 out of 5 (Extraordinarily platitudinous)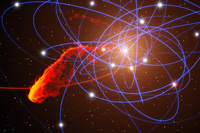 Hasn't 2011 been just terrible? It's been awful. Absolutely abysmal. There's youth unemployment and all sorts of social ills.
Fortunately, Christianity invented something called "hope". This isn't just blind optimism. It isn't.
Christians also invented things called "faith" and "love". The Bishop of Liverpool might think the phrase
"God is Love"
is too vacuous, but God is Love, and this is not a contradiction. God is the ultimate reality. It is.
A
famous theologian
thought love was a really good thing, so it must be true.
Since love and hope are such good things, faith must be too. A child told me that faith was believing what you know isn't true. Foolish child! Don't worry, we will soon correct such wrong notions. Nor is faith simply a crutch for those who can't accept that the universe wasn't made for our benefit. It isn't.
To show how correct everything I'm saying is, my charity collected the money to switch on an old woman's heating. That's how right I am.
We, and by we I do of course mean you, have the ability to transform from an ugly, selfish, sinful pond nymph, into a beautiful, generous, virtuous dragonfly.
Listen/Read
<<First
<Back
| 138 | 139 | 140 | 141 | 142 | 143 | 144 | 145 | 146 | 147 |
Next>
Last>>