Rating
4 out of 5 (Highly platitudinous)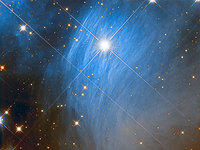 Yesterday was Valentine's day: a day of romance, true love and conspicuous affection.
God I can't stand Valentine's day. It makes me want to vomit on all those roses and pink champagnes and god awful cuddly teddy bears. I loathe and despise cuddly teddy bears. A curse upon all cuddly teddy bears.
Which brings me neatly onto the subject of science-and-magic. No one in the field of science-and-magic knows what love is. This just goes to show how rubbish science-and-magic is. I know rather a lot about science-and-magic people. The college that I'm dean of has rather a lot of them and I can tell you that science-and-magic people don't know half as much about love as Saint Paul did.
Which brings me neatly onto Saint Paul. He knew a lot more about love than science-and-magic people do. If you want to know something about love, the person to consult is Saint Paul and not science-and-magic people. Saint Paul wrote a famous bit
about love
. This is often read out at weddings with a horrible sentimental voice, full of emotion. This is all wrong. Saint Paul should always be read in a cross, angry, brutal, annoyed, bitter, teddy bear crushing way.
If there is one thing you can be absolutely sure of, it's that Saint Paul, even when writing about love, absolutely hated teddy bears - teddy bears and women, teddy bears and women and homosexuals, teddy bears and women and homosexuals and just about everybody, but mainly teddy bears.
Listen/Read
<<First
<Back
| 137 | 138 | 139 | 140 | 141 | 142 | 143 | 144 | 145 | 146 |
Next>
Last>>