Rating
5 out of 5 (Extraordinarily platitudinous)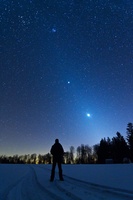 Racism is bad. It's not as bad now as it used to be. It used to be very bad, now it's just bad.
We all have prejudices. Now that I think about it, even non-white people can have prejudices. There's a tribalism in us that we all have to overcome. This innate tribalism isn't the result of evolution. That's such a silly argument that I'm not even going to mention it. Our tribalism is the result of the Invisible Magic Friend. He decided to make us different colours with different faiths, languages and cultures because he thought history would be more entertaining that way, as we "got to know one another".
I know a Protestant theologian whose daughter is marrying a Hindu. Now I know what you're thinking. How can a good Protestant girl, who quite properly believes in the only true Invisible Magic Friend, marry someone who not only has a different Invisible Magic Friend, but has lots of Invisible Magic Friends? It's unbelievable, isn't it? After the theologian had recovered from the shock and got up off the couch, he decided to permit the marriage on the grounds that his daughter's happiness might be more important.
As a Professor of Islamic and Inter-Religious Studies, I find myself troubled and challenged by this bizarre behaviour. Could I allow one of my children to marry someone with the wrong Invisible Magic Friend, or even worse, a Hindu? I'm really not sure. This is the kind of complex and difficult question that shows just how important my Inter-Religious Studies courses are. I might even raise the question at the next inter-faith buffet.
Listen/Read
<<First
<Back
| 137 | 138 | 139 | 140 | 141 | 142 | 143 | 144 | 145 | 146 |
Next>
Last>>