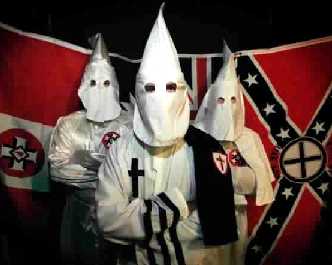 A cross party committee of Ku Klux Klan parliamentarians has demanded that equality legislation be extended to cover the KKK.
"In recent years there have been a long string of cases where the beliefs and wishes of KKK people have been relegated below the rights of certain other groups," said Baroness "Stonewall" Jackson. "We believe it is high time the balance was redressed and that employers are required to make reasonable accommodation for ordinary KKK members. After all, they do it for disabled people, we think we should be treated as disabled too."
The move follows reports of a British Airlines check-in desk attendant who was sacked for wearing a large pointy white hat while on duty.
"It's an utter disgrace," said the utterly disgruntled ex-employee. "Sikhs and Muslims are allowed exceptions from the uniform rules but as soon as an indigenous white racist asks for the same treatment, equality goes out the window. It's blatant double standards. We're loosing what it means to be British."
Similar stories of bias against the KKK have come from other parts of the country. A council in the north of England transferred one of it's drivers from delivery duties simply because of KKK symbols in his van.
"I've never had any problems," said the van driver. "I've had this very discreet golliwog hanging from a noose on my rear view mirror for years. The only people who complained were those who are prejudiced against the KKK. It just seems that no one cares about our rights any more."
One of the most famous cases of KKK beliefs being marginalised, was the Hackney registrar, Robert E. Lee, who refused to marry black people.
"I'm not bigoted," said Mr. Lee, "but it's against my deepest and most sincerely held beliefs to assist in the procreation of inferior races. The council could easily have accommodated my beliefs. They could have adjusted the rota so that I only had to preside over white weddings. Doctors get a conscience clause to opt out of abortions, this is no different."
There is a growing feeling among extreme right wing, hate campaigners that they are being persecuted for their beliefs. The owners of a Devon guest house, who turned away a black couple, have had their rights repeatedly undermined by the courts. As a result, many feel that they cannot even be loyal KKK members in the privacy of their own homes.
"Judges, council officials and managers just don't seem to understand Ku Klux Klan feelings on a whole range of issues," said Baroness Jackson. "There should be no hierarchy of rights. Those who hold to traditional beliefs deserve the same respect as inferior people."
Comparisons with Christians demanding similar exceptional treatment and the right to openly discriminate against gay people were denied by the former Archbigot of Canterbury, Lord Notcarey.
Read
<<First
<Back
| 137 | 138 | 139 | 140 | 141 | 142 | 143 | 144 | 145 | 146 |
Next>
Last>>