Rating
5 out of 5 (Extraordinarily platitudinous)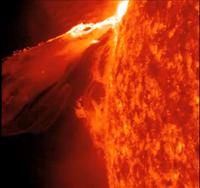 The wakeup tunes for the last two days of Discovery's final mission have
been selected
, starting today with the theme from Star Trek. There's lots of space news this week. Yesterday Patrick Moore celebrated the
700th edition
of The Sky at Night, and Brian Cox
[Ed - grrrrr... bloody Brian Cox]
started his new series
Wonders of the Universe
. There are also books to be published about whether our universe is one of many:
the multiverse
.
Putting people in space is a dangerous business. It was on this day 25 years ago that the crew compartment of the shuttle Challenger was
located
on the ocean floor. Yet the message of Star Trek, to boldly go where no one has gone before, is a basic human instinct. The science fiction series portrayed a hopeful vision of the future, where science had solved many of humanity's problems, and useless things, like religion, were a thing of the past.
But enough of all this talk of science, it's time to talk about the Invisible Magic Friend. Yuri Gagarin may have said he wasn't up in space, but
James Irwin
said he was, so there. As a Rev Dr Dr Prof, I think science is a really good thing.
[Ed - at this point someone in the Radio 4 control room had evidently had enough and we were treated to 5 seconds of the most delightful silence.]
Science is a gift from the Invisible Magic Friend, which just goes to show how incredibly useful the Invisible Magic Friend is, and how wrong Star Trek was.
Listen
Read
<<First
<Back
| 173 | 174 | 175 | 176 | 177 | 178 | 179 | 180 | 181 | 182 |
Next>
Last>>