Rating
2 out of 5 (A little platitudinous)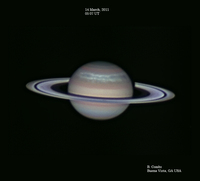 Should we interfere in Libya or not? Should we establish a no fly zone, with our non-existent aircraft carriers, to prevent Colonel Gaddafi from bombing his own people? Gaddafi himself has challenged the British government, "Are you our guardian? By what right?"
The West's policy on intervention is inconsistent, to say the least. Afghanistan and Iraq have hardly been shining triumphs, while the West did virtually nothing to prevent the horrors of the Rwandan genocide.
Thomas Aquinas set out the conditions he thought must be met for a "just war". It must protect people from unnecessary suffering. Civilian casualties must be minimised. There must be a just cause - greed, revenge or self interest don't count. There must be a strategy for post war reconstruction.
The moral and ethical implications are complex and profound, but on the whole, I say, yeah, let's bomb the hell out of them!
Listen
Read
<<First
<Back
| 172 | 173 | 174 | 175 | 176 | 177 | 178 | 179 | 180 | 181 |
Next>
Last>>