Rating
4 out of 5 (Highly platitudinous)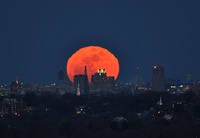 Yesterday was the budget, which brings me neatly onto the subject of spirituality. Can we really control how spiritual we are? It's a question that is often asked and the answer is, no, you can't. People who aren't as spiritual as me are just less well tuned to spiritual reality. It's not really their fault, they just can't help it. They don't understand about spiritual energy and stuff.
We can see this when
Nicodemus
asked Jesus,
"How do you do all those impressive magic tricks?"
Jesus could have just said, "It's because I'm the visible bit of the Invisible Magic Friend," but instead decided to launch into a terribly profound but rather long rant about spiritualness, being born again, being raised up and where the wind goes.
So what can those of you who aren't as spiritual as me do? Well, it's important that you remain open minded. If you're not very spiritual, try being a bit less close minded than you obviously are at the moment. If you try lying back with a completely open mind, not thinking about anything at all, eventually the Invisible Magic Friend will fill the void and you'll be able to give people the kind of useful advice that I'm giving you now.
Aren't we lucky that we had the budget yesterday? Otherwise I wouldn't have had the opportunity to tell you all this.
Listen
Read
<<First
<Back
| 171 | 172 | 173 | 174 | 175 | 176 | 177 | 178 | 179 | 180 |
Next>
Last>>