Rating
5 out of 5 (Extraordinarily platitudinous)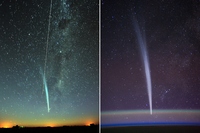 There was once this man. No, honestly there was, I knew him well. He's not at all a literary fiction designed to embody certain characteristics that tend to typify people about this time of year, and this year in particular, and that you might expect from such a celebrated author as myself.
Anyway back to this man. He was able to mention the latest fad in mass TV programming and quote G.K. Chesterton. He could mention financial terms and even knew what some of them meant. This was a man to be reckoned with, a man as well read and well informed as, oh, me for example.
Now this totally non-fictional man who isn't me and that I know well, was useless at keeping new year's resolutions. He'd resolved to read the Big Book of Magic Stuff from cover to cover but rapidly got bored by its tedious, contradictory, often badly written and largely irrelevant prose. In these difficult economic times, he was determined to find a resolution that even he could keep. He decided to quote Mark Twain and a phrase from Robert Burns made famous by John Steinbeck. He even managed to squeeze in a passing allusion to Dickens, just to remind you how well read he was.
His set of resolutions was a blank page (a somewhat overworked metaphor you might think, but he probably wasn't as advanced in literary craft as a celebrity, Christian writer like myself - or alternatively, he couldn't be bothered to waste an original metaphor on a radio slot where he didn't get paid).
He consulted the great god Google. (Did you hear that? I managed to combine the idolatry of false gods with our dependence on technology. Oh, I'm on fire today, or rather he
is
was.) But that didn't help. He discovered that "resolution" means "release", but what could release him from this vale of tears, where his existence was almost as unbearable as that of a certain well known celebrity Christian, writer?
He turned to the last paragraph of the last page of the last book of the Big Book of Magic Stuff, and there...
Well, no, actually it's not the last paragraph, it's verse 4 out of 27. It's almost certainly not the last page because there is no standard page layout, and it isn't even the last chapter, as there's one more chapter to go in Revelation before
it appears
. I just knew some nerdy, scientific type, with their obsession with "accuracy", would go look it up and make a big deal about it. You're
so
predictable. It's called artistic license, you wouldn't understand.
Anyway, it says in the Big Book of Magic Stuff, "He will wipe every tear from their eyes. There will be no more death or mourning or crying or pain, for the old order of things has passed away."
And he ended the last Thought for the Day, on the last day of the year, with a phrase that was intended to be profound, but was instead hilariously platitudinous.
Listen/Read
<<First
| 136 | 137 | 138 | 139 | 140 | 141 | 142 | 143 | 144 | 145 |
Next>
Last>>