Rating
1 out of 5 (Not platitudinous)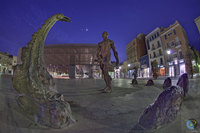 David Jones
was going through Gatwick Airport when he noticed a woman with a bag over her head. He wondered out loud what would happen if he were to try and go through with a bag over his head. The airport's high security, multi-million pound, political correctness alarms sounded immediately. Highly trained political correctness police pounced on Mr. Jones, wrestled him to the ground and were able to pack him off to a secure area before anyone could be injured by any further politically incorrect remarks.
Unfortunately, one female Muslim security guard accidentally caught some shrapnel and was offended as a result. Paramedics were able to treat her at the scene. Luckily, the remark was not deeply offensive and she suffered only surface offense that will heal given time.
This causes me to wonder if we're not being just a little bit over sensitive on some of these issues. Women have suffered worse than having to endure comments about the bags over their heads, including having to wear bags over their heads. I think Islam is big enough to endure the occasional uncomplimentary comment. It's a religion that started out with everyone saying what a lot of drivel it was. Fortunately, it had a huge aggressive army that was able to eliminate people like that.
Part of the price we have to endure for living in a free society, is that some people are going to say what a load of drivel Islam is. On balance, I think that's a price worth paying.
Listen/Read
<<First
<Back
| 136 | 137 | 138 | 139 | 140 | 141 | 142 | 143 | 144 | 145 |