Rating
3 out of 5 (Fairly platitudinous)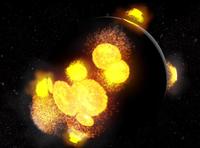 Isn't Liverpool, the city that I'm lord bishop of, just brilliant.
We just gave one of my fellow lords, Lord Heseltine, the
freedom of the city
. That's just brilliant.
The city has just played host to the
Global Entrepreneurship Congress
, which was just brilliant. Entrepreneurs are just brilliant. Loads of them came to visit my cathedral. It's the largest in the country you know, which is just brilliant, isn't it. They all had lunch with me, which was just brilliant.
A lot of the money to build my cathedral came from entrepreneurs and I think that's just brilliant. It just goes to show how really, really, brilliant entrepreneurs are.
Christians, and I think people of other faiths too, are really keen on helping children. Brilliant.
I'd just like to compare Liverpool to a person with diabetes and talk a lot about blood flow and extremities. I think that's a brilliant metaphor, don't you?
Tomorrow's the budget. Maybe there'll be lots of money for entrepreneurs. That'd be just brilliant.
The Big Book of Magic Stuff doesn't really have anything to say about entrepreneurs. Even the visible bit of the Invisible Magic Friend doesn't say much about entrepreneurs. Come to think of it he wasn't over keen on having people conducting trade in the Temple. I'm sure he'd approve of loads of entrepreneurs having lunch with me, the lord bishop, in Liverpool Cathedral though - the largest in the country. Just brilliant.
There is a bit in the New Tasty mint where Saint Paul does say something marginally relevant though. He doesn't mention entrepreneurs as such, but he does say "When you get rich, can you give us some of it?" Brilliant.
Isn't my fellow lord, Lord Heseltine just brilliant!
Listen/Read
<<First
<Back
| 135 | 136 | 137 | 138 | 139 | 140 | 141 | 142 | 143 | 144 |
Next>
Last>>