Rating
5 out of 5 (Extraordinarily platitudinous)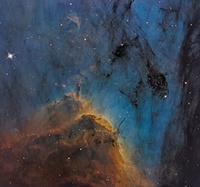 Happy four weeks to go 'till Christmas everyone!
You know that bloke in the high street with a sandwich board saying "repent, the end is nigh," well, I know what you're thinking. You're thinking, "Phew, what a complete religious nutter. He's as bad as an environmentalist." But he's right, the end really is nigh.
The true meaning of Christmas is that Christ is going to return any day now and judge us all. Father Christ is going to appear at the foot of your bed in a blaze of glory and say, "Have you been good little boys and girls? Or have you been naughty?" All the good little boys and girls will get lots of lovely eternal life and get into heaven, but all the naughty ones get eternal damnation with demons sticking red hot pitch forks where you'd really rather they didn't.
You can always cast yourself down before Father Christ and plead for his infinite mercy. A bit of grovelling certainly won't do you any harm when you consider the alternative, but on the whole rules is rules. You had your chance and you messed it up. See if you're laughing at us Christians then, eh?
On judgement day, tyrants will be overthrown, even in Syria and the Eurozone economic crisis will be solved. There, that's one of the most tenuous connections to the news, ever, out of the way.
And don't think you can get away from either the rampant commercialism of Christmas or judgement day by going on a nice, relaxing cruise. Father Christ knows where you are and will judge you anyway.
Like I said, happy four weeks to go 'till Christmas everyone!
Listen/Read
<<First
<Back
| 134 | 135 | 136 | 137 | 138 | 139 | 140 | 141 | 142 | 143 |
Next>
Last>>