Rating
2 out of 5 (A little platitudinous)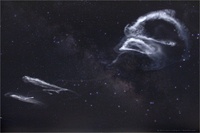 It's becoming increasingly difficult to
buy a meal
with the Prime Minister and keeping it all hush-hush. What no one denies is that having a meal together is a sign of warmth and friendship, or at the very least, a six figure sum of money.
Sometimes an occasion is ruined by the person who insists on foisting their opinions on others. They talk right over everyone, never letting anyone else express an alternative point of view. It's almost as if they think they have some god-given right to be heard to the exclusion of everyone else at the meal.
Communal meals - I wonder where I'm going with this? Let me see, I'm a bishop talking about communal meals, I'll bet you can't guess what particular Christian communal meal I might be about to talk about. I can just imagine you all, sitting out there, the anticipation building to a frenzy, wondering what Christian communal meal I'm going to mention.
OK, I'll put you out of you're misery, it's the Eucharist! The Mass! Holy Communion!
I was at a communal meal that wasn't the Eucharist, the Mass, Holy Communion. I overheard a poor man telling a rich man how difficult it was being poor. The rich man replied by telling the poor man how difficult it was being rich.
This is what we need: rich meeting poor over a friendly chat. We need more poor people paying six figure sums to have a chat with the PM.
Listen/Read
<<First
<Back
| 133 | 134 | 135 | 136 | 137 | 138 | 139 | 140 | 141 | 142 |
Next>
Last>>