Sunday, 4 March, 2012, 08:33 AM -
Clemmies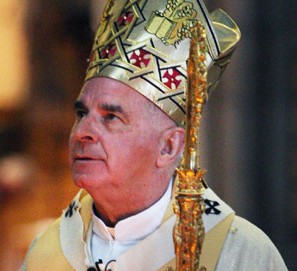 I cannot express how honoured I feel to be the first leader of the Roman Catholic Church in Scotland to present the world famous Clemmies. As you can see, I'm sporting a pretty impressive gold, pointy hat, which just goes to show how solemn these award ceremonies are.
But first, a word about homosexuals. Sensible people, like Roman Catholic Cardinals, opposed civil partnerships because of the mental and physical harm they cause to people of a homosexual persuasion. We opposed them because we care, but for some reason nobody ever listens to us when it comes to sex. Now look what's happened. Thousands of homosexual couples are utterly miserable and society has completely collapsed.
Now the government wants to make things even worse. They want to take these marriages, in all but name, and call them "marriages"! If things are bad now, just imagine how much worse they'll be then!
Sorry, I'm forgetting about the Clemmies.
Anne Atkins
compared herself to the Invisible Magic Friend and you to a bunch of dogs that have to be trained. Which I'm sure you'll agree was well worth hearing over breakfast.
The repercussions of changing the name to "marriage" will be immense. Once again we will be victims of this tyranny of tolerance. It's madness, pure madness I tell you!! How can you uphold a universal human right by giving it to everyone? It's grotesque!!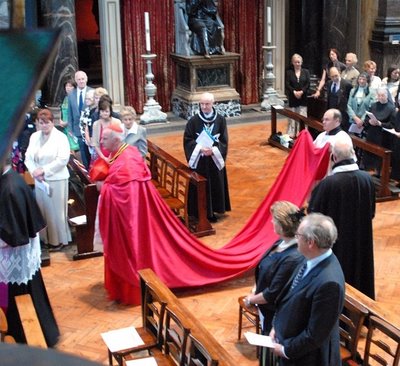 Oh, oh, you'll love this. This is me at the London Oratory with an absolutely
gorgeous
pink, satin cape. I mean, how can you not take someone seriously with a satin train like that?
Where was I? Oh yes
Baron Wimbledon
put those awful, shrill, militant, intolerant etc. secularists in their place and about time too.
Speaking about intolerance, just because people like me want to defend marriage by not letting everybody do it, we're called intolerant bigots!!! I know, it's incredible isn't it? When has the Catholic Church ever been intolerant or bigoted? Unbelievable, absolutely unbelievable!!!
And another thing, same-sex marriage means the extermination of mothers and fathers. I'm not exaggerating, honestly, I'm not!!! Won't someone please,
please
think of the children!!! Trust me on this, when it comes to the best interests of children, there's really no one better than a Roman Catholic bishop.
The what? The Clemmies? Oh, yes!
Akhandadhi Das
examined that silly piece of research by that shrill, awful, intolerant, militant Richard Dawkins that showed Christians don't really believe any of it. Mr. Das was able to demonstrate that what it really showed was that atheists really did believe it.
And while we're on the subject of same-sex marriage, why not allow three men or a whole bus-load of woman to marry? They say same-sex marriage is optional, but just imagine for a moment that the Government had decided to legalise slavery but assured us that "no one will be forced to keep a slave"!!!! When you see that same-sex marriage is equivalent to legalising slavery it puts it all in perspective, doesn't it!?!?
Bishop Tom Butler
very lucidly explained why science is
exactly[
the same as theology. (He's not really a bishop you know, not being a Catholic. They're just some strange bunch of folk that put on fancy dress and go around looking all important.)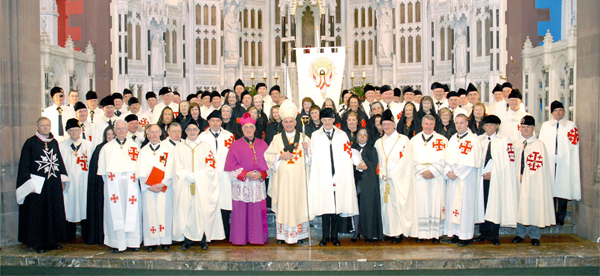 This is me presiding over the Scottish Lieutenancy of the Equestrian Order of the Holy Sepulchre of Jerusalem, just to remind people of that whole, Scotland-Holy Sepulchre, equestrian connection thing. As you can see, I've got more than one pointy hat. It's just so embarrassing to be caught out wearing the same pointy hat more than once.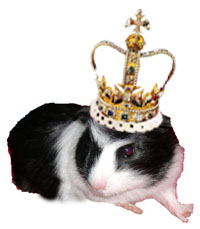 This month's winner is
Mona Siddiqui
, Professor of Inter-Religious studies who feels a bit unsure about her nice Muslim son wanting to marry a Hindu girl. Just you wait Mona, the government wants him to marry a Hindu boy!!!!! Oh the shame, the shame!!!!!
(What do you mean I'm beginning to sound hysterical?!?!?)
Read
<<First
<Back
| 136 | 137 | 138 | 139 | 140 | 141 | 142 | 143 | 144 | 145 |
Next>
Last>>