Rating
3 out of 5 (Fairly platitudinous)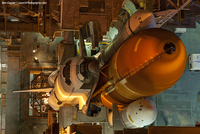 Happy day before Mother's Day! I would have wished you happy Mother's Day on Mother's Day but we don't do Thought For The Day on Sunday, which is when Mother's Day is, as we all have far more important things to do on a Sunday.
Many of us either have, or have had a mother. I'm a big fan of mothers. Aren't they just fantastic? They really do the most splendid job. Without mothers we wouldn't have children and aren't children just fantastic too?
But let us look past the secular, and therefore rather superficial, tradition of sending your mother cards and flowers, taking her out to dinner and basically just treating her for the day. As we do so, we naturally turn our thoughts to something more profound: to Jesus. Jesus had a mother you know. She was called "Mary" and she was the best mother there ever was. You may think your mother is just great but actually she's complete rubbish compared to Mary.
Mary didn't have a midwife at Jesus' birth, but that's OK because she was just such a fantastic mum and Jesus was the Invisible Magic Friend. Sadly, many mothers
don't have midwives
, which is a great shame. Ordinary mothers, ones who aren't giving birth to the Invisible Magic Friend, could very well be killed by the Invisible Magic Friend during childbirth. So they had better make their peace with him before giving birth.
Listen
Read
<<First
<Back
| 170 | 171 | 172 | 173 | 174 | 175 | 176 | 177 | 178 | 179 |
Next>
Last>>