Rating
3 out of 5 (Fairly platitudinous)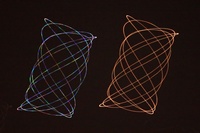 Yesterday was the funeral of the Indian holy man
Sathya Sai Baba
. We know he was a holy man because he wore orange, the colour of holiness and he could conjure up Rolex watches, which I think you'll agree, could only be done if he was particularly holy. As if this evidence weren't enough, there were allegations of sexual abuse and if that doesn't make him holy then I don't know what does.
Some think he was a god, which is obviously wrong because there's only one Invisible Magic Friend. He was surrounded by imagery from Hinduism, Islam and Christianity - a "let's not be making any enemies here" sort of religion.
One woman said he had changed her life. He had given her life meaning. Without him and his Rolex watches, life just seemed so pointless. She needed someone to idolise, to revere, to look up to, many people did, and Sathya Sai Baba was happy to oblige.
Some people need that. It's called being "spiritual". They long for a living god who can make Rolex watches appear. Why it is that some seek out the mysterious is a mystery.
And now to end on one of those phrases that at first leaves one scratching one's head, but invites speculation as to its layers of hidden meaning, evoking wisdom that inspires on so many levels, whose profundity is so cleverly disguised that only the truly intelligent and enlightened will grasp its depth.
"The death of the guru is potentially the growth of the disciple."
Listen/Read
<<First
<Back
| 167 | 168 | 169 | 170 | 171 | 172 | 173 | 174 | 175 | 176 |
Next>
Last>>