Friday, 6 April, 2012, 07:24 AM
Rating
5 out of 5 (Extraordinarily platitudinous)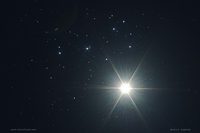 This week, the Prime Minister told Christian leaders that
Christianity's really fantastic
, and let's not get all flustered over this you-know-what marriage thing as he's definitely the person that Christians should vote for.
I know what you're thinking, if David Cameron says something is true then it really must be true, for David Cameron is a man of principle, intelligence and integrity. He's not just another politician who says whatever his audience likes to hear. We religious leaders aren't that gullible you know. We don't just believe everything we hear.
Today, on Good Friday, the day on which Jesus was tortured to death, we remember that Christian values grow on trees. Some are really sweet and fruity and some are bitter, or even poisonous. Others fall to the ground and rot as soon as you touch them.
The cross pops up everywhere. That's the great thing about having a simple geometric pattern as your religious symbol. It stands for love, compassion, tolerance (except you-know-what marriage), justice. If it weren't for the cross, we wouldn't have any love, compassion, tolerance (except you-know-what marriage) and justice. In fact, Jesus invented love, compassion, tolerance (except you-know-what marriage) and justice.
The PM (isn't he just
fantastic
- I'd certainly vote for him), says we need the values of the Big Book of Magic Stuff: slavery, genocide, xenophobia and an Invisible Magic Friend who gets really upset when people don't worship him enough.
Did I mention that many elderly people have dementia? I don't.
Today, Good Friday, we commemorate the love of the visible bit of the Invisible Magic Friend who died for our, and by "our" I really do mean "your" sins. Pay no attention to any
not-really-a-priest
from that not-really-a-Church of England, that says otherwise.
Jesus' crucifixion definitely happened. It did. It's a historical, 100% reliable, definitely true fact that actually, really, definitely happened. We have multiple, dependent accounts, from people who wrote down what someone had told them, that they had heard from someone who knew an eyewitness that had seen it all. It's the kind of rock solid hearsay that would stand up in any court.
That's why I can say, with equal reliability, that love even conquers death.
Listen/Read
<<First
<Back
| 132 | 133 | 134 | 135 | 136 | 137 | 138 | 139 | 140 | 141 |
Next>
Last>>