Friday, 27 April, 2012, 03:04 PM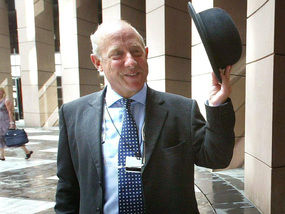 Just got my copy of this week's Newsline and have come across the ghastly Godfrey Bloom MEP for the first time. I sincerely hope it's also the last time. Mr Bloom
wrote an article
defending the hotel owners who didn't want to serve a gay couple.
It's factually inaccurate, but contains such splendid observations as: "Especially, those as shallow as we have now; many bred from that appalling 1960s and 1970s generation."
Well, that should see off about a quarter of his electorate.
NSS Executive Director, Keith Porteous Wood, emailed him asking him to make some corrections. He got an email back from his secretary telling him not to be impertinent. Mr Bloom did reply in the end though. Here's what he wrote. It's quite astonishing.
1. A business, any business, in a free society, should be allowed to contract freely or decide not to contract, with whomever it wishes. This is a basic principle of civilised society, and it makes the UK and places where the influence of the British Empire have decisively and lastingly touched, such as the Commonwealth, superior places to live in. If the Christian hotel want to only contract with Christians of evangelical stamp, or even Assemblies of God Pentecostal evangelical stamp only, or Plymouth Brethren only, it is their business, not yours.

2. The coercion by government diktat does not become less despotic when it is blandly called 'the law'. The law may be an ass or an asset. Adolf Hitler made many laws for his inglorious Third Reich, and duly eliminated millions of Jews and homosexuals, but the fact that they called it 'the law' merely proved that the law can stink off the page of the book to high heaven, if I may use so telling a phrase to the Secular Society. If the law be not moral it is a bad law: it is no law. Politicians exist to change bad law, even those in the EU Parliament.

3. Western civilization was founded upon Christian values, not secular values. Your society is unnecessary and misguided, and contributes to the decay of Western civilization. Your principles are parochial, subject to the lobby group de jour, and limited to the mere wrangling of passing technicalities in legal terms. You are negative not positive in your approach. We know what you are against very clearly, if you are for anything positive, I have yet to divine it, if I may use so telling a term replying to the Secular Society. Please disband yourself.

4. Your points concern mere positive law, not substantive natural law based on true values. True values are based in natural law, which is objective, universal, and eternal in scope in application to human society. I am sure you are familiar with the pagan glimmerings of light which shine through in the famous exchange between Antigone and King Kreon in Sophocles' play, 'Antigone', which states precisely this in the 5th century BC. "Laws are for a day, but eternal principles cannot be changed." How else would we judge good and bad laws if a morality above it did not exist? Of course many parallel examples exist in Sumero-Babylonian, ancient Egyptian, and early Hebrew texts, among others, you may be familiar with some of them.
The new politeness regulations are arbitrarily suspended for all discussion of this arrogant, obnoxious twat.
<<First
<Back
| 130 | 131 | 132 | 133 | 134 | 135 | 136 | 137 | 138 | 139 |
Next>
Last>>