Rating
3 out of 5 (Fairly platitudinous)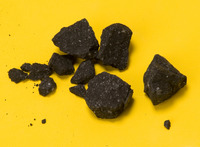 Brian here, in Southampton, an associate lecturer at the
London Institute for Contemporary Christianity
where we envision and equip Christians and their churches for whole-life missionary discipleship in the world, seek to serve them with biblical frameworks, practical resources, training and models so that they flourish as followers of Jesus and grow as whole-life disciplemaking communities. Hi.
I'll bet you all got really excited over the London Marathon last week. I'm sure you were all running in it, or at the very least, if your weren't running it yourself, you almost certainly knew someone who did. Or if you weren't running in it yourself, and didn't know someone who was, even though you almost certainly did, you would even more certainly have sponsored someone who was. Or if you weren't running in it yourself, and didn't known anyone who was, and hadn't sponsored someone, you undoubtedly got caught up in all the excitement of the big day, or watched it on telly or had
some
connection with the London Marathon. I'll eat my boxer shorts if you didn't!
Sadly,
people die
running the marathon. The question is, why are we sad when a young person, trying to help others, taking part in a fun day out, suddenly dies? Why on earth do we care? Why are we moved? Why do we get emotional about it? What is it that tugs at our heart? Why aren't we selfish and self obsessed and cold and uncaring?
The answer is, it's being spiritual. It's like
Fabrice Muamba
who had a heart attack while playing football. Everybody prayed really hard for him. Doctors, paramedics and nurses spent hours praying over him, and thanks to being spiritual he got better.
You don't really need to listen to any more of this thought because it's basically just me saying what I already said on the
BBC website
.
Listen/Read
<<First
<Back
| 130 | 131 | 132 | 133 | 134 | 135 | 136 | 137 | 138 | 139 |
Next>
Last>>