Monday, 30 April, 2012, 08:50 AM -
James
Rating
2 out of 5 (A little platitudinous)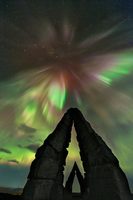 Isn't the
Levenson enquiry
just fascinating?
No say a lot of young people. "Rupert who?" they ask.
Sales of newspapers continue to decline rapidly. Yet what is written in them continues to set the news agenda. We tend to invest more authority in what is written than what is said unthinkingly in idle conversion. An insult delivered in the heat of the moment can be easily ignored. A written insult, that someone has put some real thought and effort into, is more widely appreciated.
Scriptures are written down. That's what makes them every bit as reliable as newspapers. If Rupert Murdoch had been around in Jesus' day he would have written the letters of Saint Paul, or even the Gospels. They really are
that
authoritative.
Much of what is written these days is on social networks or texts. They are meant to be casual conversations, but they have the permanence of the written word. So be careful what you write.
Listen/Read
<<First
<Back
| 130 | 131 | 132 | 133 | 134 | 135 | 136 | 137 | 138 | 139 |
Next>
Last>>