Rating
1 out of 5 (Not platitudinous)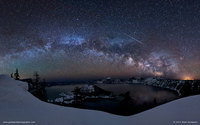 The University of Central Lancashire, not to be confused with the University of Outer Lancashire, has opened an
Institute for Dark Tourism Research
. They want to answer the question, why do people visit places of great tragedy, like the concentration camps?
I visited the concentration camps as part of an inter-faith tour. We went to Dachau, Auschwitz and Birkenau where we saw the bleak reminders of the evil done there. One of the victims was my grandfather.
I did some meditation and said some Jewish prayers.
Is this all just morbid curiosity, or is there some purpose to it all? In my case, it is a matter of trying to face death, of viewing the world as it is, not just in its beautiful aspects, but also its darker side.
Listen/Read
<<First
<Back
| 130 | 131 | 132 | 133 | 134 | 135 | 136 | 137 | 138 | 139 |
Next>
Last>>