Rating
4 out of 5 (Highly platitudinous)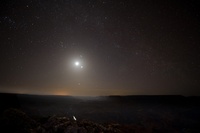 The big Jewish festival of Passover is well under way now. This is a feast that's all about children. I'm sure you're all having a great time celebrating the mass slaughter of Egyptian children. It's a time when we get the youngest child to ask questions such as "Why is our Invisible Magic Friend real when everybody else's is just made up?"
It's thanks to Jews having families, families with children in them, that we've survived as a culture. Despite many persecutions over the centuries, we've gone on having families with children in them.
45 years ago I heard someone say something bad about families. That was very wrong. I still think that was very wrong. Families are good things. Just look at all those people who
went rioting
last year. That's because they weren't part of families. Good Jewish children didn't go rioting, because they had families.
As Big chief Rabbi of one of the oldest, yet youngest, civilizations, let me give this advice to younger civilizations: if you want to be as successful as we have, have children. I can't emphasize this enough: children are
so
important. Won't someone please,
please
think of the children.
The Egyptian civilization didn't look after their children properly and look what happened to them.
Listen/Read
<<First
<Back
| 130 | 131 | 132 | 133 | 134 | 135 | 136 | 137 | 138 | 139 |
Next>
Last>>