Rating
2 out of 5 (A little platitudinous)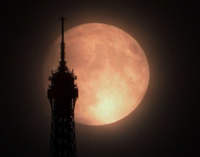 "I DON'T BELIEVE IT!" Said
Victor Bin Laden
, the retired terrorist leader who just couldn't get the staff.
This is the way to deal with evil: to laugh at it. I know, I read it in
Harry Potter
, where it was written. If there's one thing people who take themselves too seriously can't stand, it's to be laughed at.
Naturally, Terry Eagleton, has
something to say about it
. As a Marxist Philosopher and an author almost as prolific as Barbara Cartland, he certainly doesn't take himself too seriously. He followed Saint Augustine, who used to think evil was a real force in the world, then he decided it wasn't, and it was this latter view that was correct.
Evil is not glamorous or powerful, it is cold and meaningless. Freud said something about evil too and Freud was terribly clever.
Evil isn't some supernatural reality in the way that other supernatural realities are. For that to be true there'd have to be some supernatural embodiment of evil, like a fallen angel or something. That's just silly.
Listen/Read
<<First
<Back
| 129 | 130 | 131 | 132 | 133 | 134 | 135 | 136 | 137 | 138 |
Next>
Last>>