Rating
5 out of 5 (Extraordinarily platitudinous)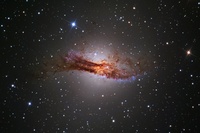 Hurry on along to the Tate Modern where you can see Damien Hirst's exciting
new exhibition
for the fantastic, value price of only £15.50 (concessions available). You'll be able to buy your very own rolls of Damien Hirst wallpaper for only £250 each. That's right, for only a few thousand pounds, you can turn an ordinary, dull, bedroom into a work of art! Don't forget to keep the off cuttings.
But that's not all, David Hockney has an almost as good exhibition at the Royal Academy, at the equally fantastic, knock down price of only £15.50 (concessions available). In the
gift shop
you'll find a wide array of David Hockney books, prints, catalogues, mugs, designer bags and serving trays, some for as little as £195.
Even better still, why not round off your day with a large collection of wrinkly, unflattering portraits by Lucian Freud, for the amazing price of only £15.40 (concessions available). Don't forget to visit the
National Portrait Gallery
shop where you'll find even more limited edition prints, books and souvenirs.
Anyone would think big art had become big industry, but I refuse to be cynical about these things. It's all too easy to be cynical about art, but many of these artists only sell exorbitantly priced trinkets as an ironic statement on modern day, grubby commercialism, which is all most of you seem to think about these days. Big art, like big religion, isn't really about money, but about raising people's awareness, and being able to join in on arty conversations at dinner parties. If you're the kind of person who queues for hours to buy plastic replicas of jewel encrusted skulls, then religion is definitely for you.
Alternatively, you could visit any of hundreds of galleries around the country, where entry is usually free, and buy an original painting that you actually like by a struggling local artist.
Listen/Read
<<First
<Back
| 128 | 129 | 130 | 131 | 132 | 133 | 134 | 135 | 136 | 137 |
Next>
Last>>