Friday, 11 May, 2012, 07:39 AM -
Bell
Rating
1 out of 5 (Not platitudinous)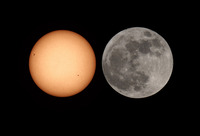 Many of the greatest human evils arise when gangs of men, specifically men, not women, act as a group. Whether it's the groupthink that led to the current financial crisis, wage slavery in factories, setting up concentration camps, declaring war, or running terrorist or paedophile networks, in a patriarchal society, it is almost always gangs of men who are the ringleaders. Men will even slaughter one another in the name of the Invisible Magic Friend.
Any group of people can be capable of great evil.
A famous theologian
said so, so I must be right. You can see this in something as simple as a youth group, where regulars, including those who are normally well behaved, gang up on a new member.
The
Rochdale paedophile gang
would never have wanted their own daughters to be abused, yet were capable of unspeakable crimes against others' daughters.
It's what men are capable of collectively that we need to be most afraid of.
Listen/Read
<<First
<Back
| 129 | 130 | 131 | 132 | 133 | 134 | 135 | 136 | 137 | 138 |
Next>
Last>>