Rating
5 out of 5 (Extraordinarily platitudinous)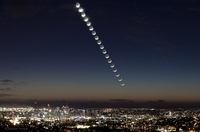 Me and some other celebrities were having a bit of a party and it got reported in the newspapers. Now I was there, with the other celebrities, and I can tell you that lots of things in the newspaper were just made up. I know what you're thinking, shocking, isn't it?
It just goes to show that you shouldn't believe everything you read in the newspapers. On the other hand, people like me do believe everything we read in the newspapers. I mean, they can't make
everything
up, can they? Just because the one celebrity event that I have first hand knowledge of turned out to be misreported in the newspaper, doesn't mean they do that all the time.
It's because written accounts are so reliable that we can fully trust John's account of the wedding at Cana where Jesus turned
180 gallons
of water into wine (it was quite a big wedding, with a lot of local celebrities present - I'd probably have been there myself if it was held today). You can tell from details like that, and the reporting of the time and the place, that this was undoubtedly true. It was witnessed by so many people that the first three Gospel writers didn't even feel the need to mention it.
If that isn't convincing enough, millions of people today, 2,000 years later, continue to believe it to be true, so it really must be. People even swear on it that they're telling the truth - it's
that
trustworthy!
Listen/Read
<<First
<Back
| 127 | 128 | 129 | 130 | 131 | 132 | 133 | 134 | 135 | 136 |
Next>
Last>>