Saturday, 19 June, 2010, 08:10 AM
A few days ago, as part of their inclusive, loving,
championship of equal rights
for all, the Irish Bishops' Conference issued a
press release
. They called, once again, for members of parliament to vote against the Civil Partnerships bill, just like Catholic bishops have done in every single country where such a proposal has been introduced. They called for the "civil rights" of Catholic registrars to be respected so that they'll be allowed to discriminate against same sex couples.
Today we hear the collective
response
of the Irish people.
"The ICCL seriously doubts that the Irish Catholic bishops retain sufficient moral authority to pontificate on the Civil Partnership Bill,"
Mark Kelly, director of the Irish Council for Civil Liberties.
"It will be implemented,"
Spokesman for Justice Minster Dermot Ahern
"Objecting to the implementation of equal rights for Irish citizens may be seen as an absence of moral conscience."
President of Union of Students in Ireland
"The Catholic bishops' time would be better spent getting their own house in order rather than seeking to interfere in the work of the Oireachtas."
Aengus O Snodaigh, Sinn Fein justice spokesman
"The Bill will allow adults in same-sex relationships, who so choose, to have their relationships recognised by civil law, and will extend protection to same-sex couples in areas like inheritance, pension benefits and medical rights.
"This is the right thing to do, and is long overdue."
Dr Angela Kerins, Chairwoman of the Equality Authority
Taken in the round, I think the following picture just about sums up the reaction to the Irish bishops trying to tell anyone about morality.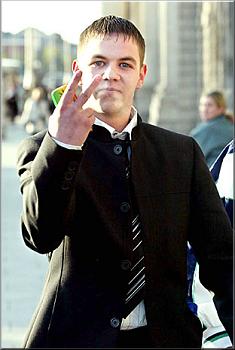 <<First
<Back
| 200 | 201 | 202 | 203 | 204 | 205 | 206 | 207 | 208 | 209 |
Next>
Last>>